Volunteering with MCCG
Do you value the environment?  Have a passion for our wonderfully diverse local area?
Don't wait any longer!  There are many ways to get involved …. Membership
Why not simply become a member?  It's a really worthwhile way to support your community and your environment! For more info visit our Membership Page.
---
Volunteering
Or perhaps you could volunteer? Each of our valued volunteers has skills which help restore Moggill Creek to its natural state, preserving its special and fragile beauty.
We have a range of opportunities, from one-off events to long term projects.  You can jump on board an existing project or could even develop your own!
At the same time you can meet like-minded people and increase your knowledge about the flora and fauna of our unique environment.
Our volunteer family is as diverse as our catchment!  From working couples to retirees, we all share a common passion and concern for our environment.

Some volunteer roles you may wish to consider:
Working Bee Teams 
Working Bees take place in a variety of creekside locations every month. Find one that interests you! By sharing 3-4 hours a month you will really make a difference, clearing weeds, planting native vegetation and tending to replanted zones. For more info, including contact details, visit our Working Bees page. 

Section Leaders
Like to take the lead?  We need you!  We currently need Section Leaders for:
Pullenvale/Moons Lane
Gold Creek Reserve
Lower Gold Creek
Mt Coot-tha Park
If you can take the lead to preserve these wonderful creek habitats, please contact Jim Pope by email or phone Jim on 3374 4181.

Cottage Gardeners
We need help to tend to our small experimental garden located at the end of Gold Creek Road. Here is an opportunity to share your knowledge and learn more about our local plants and fauna!  The Cottage Garden was established to experiment with how plants native to the catchment and grown in our nursery might be used in suburban gardens. Gardening takes place regularly on an as needed basis. Contact Warren Hoey by email or phone Warren on 3878 9123 for more info.

Nursery Hands
At our Nursery at the end of Gold Creek Road we propagate local indigenous plants for our members.  Nursery volunteers generally meet on the first and third Mondays of each month from 9 am to 12 noon. Morning tea is provided – and that generally means home-baked cakes!  You could be involved in seed collection and germination, sowing of seed, potting up seedlings, weeding and general nursery maintenance. Phone Andrew Wilson on 0498 746 551 to learn more.
Watch the video of the Nursery volunteers in action.

Bird Lovers
Love birds?   (who doesn't?)  Come and participate in  our Bird Project and join educational and research activities providing resources for people interested in birdlife in the catchment. Help contribute to our communal knowledge of our catchment birds.  For more info, see our Bird Project page or contact Jim Butler at: [email protected]

Creek Health Monitoring Team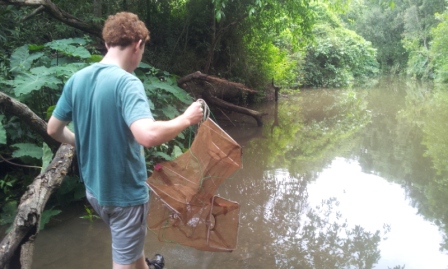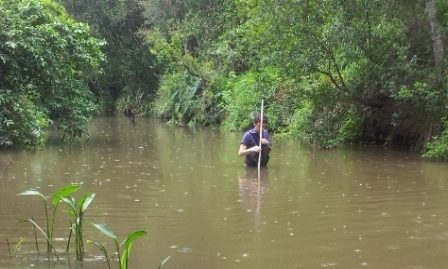 Help us in our important work to compile baseline data about fish, aquatic macro-invertebrates, habitat and water quality at one of 12 sites in our catchment. This fascinating and hands-on work will assist decision-making about where effort should be directed in land and water management. Monitoring sessions are held twice a year, in April/May and October/November.  Check out our Creek Health Monitoring Project web page.  You can also email our Secretary for more info at: [email protected]

Platypus Surveyors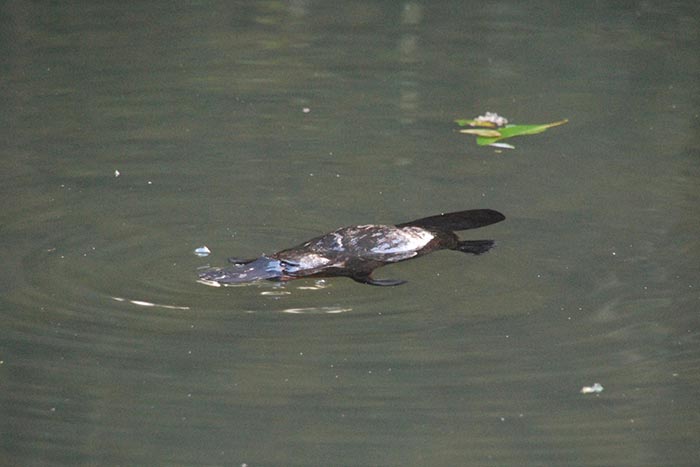 Become one of the few people in the world who are "platy-watchers!" Each September a select group of volunteers collects data from observation posts on Moggill and Gold Creeks. They spend an hour or so at their appointed site and then share their results over a BBQ breakfast. For information see our Platypus Survey web page or contact Chris Hosking to get involved at:  [email protected] 

Cats Claw Creeper Crusaders!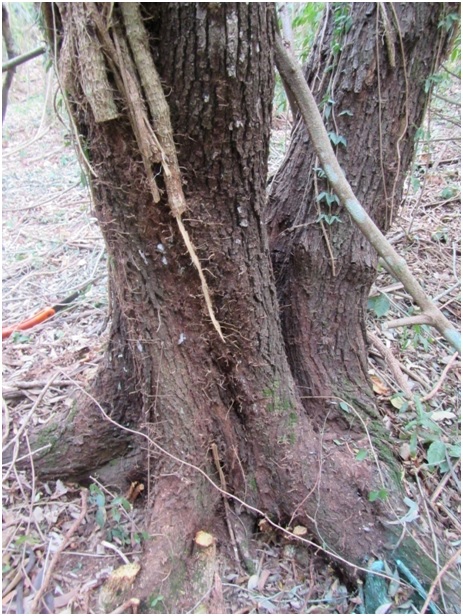 Help us to eradicate the significant threat posed by the Cats Claw Creeper! This exotic canopy vine poses a lethal threat to remnant forests and conservation parks in our catchment. Our approach is to minimise the spread of infestations across all tenures and our priority is to prevent vines flowering and seeding in the canopies.  There is still much to do. For more information contact the MCCG secretary at: [email protected]
To read the latest on our continuing Cats Claw Crusade, click here

Kids Day Helpers (in May each year) 
The popular "Kids' Day at the Cottage"  is usually held on the last Sunday in May. All activities are FREE and FUN for children thanks to our volunteers, with support from the Lord Mayor's Suburban Initiative Fund for the Pullenvale Ward. To get involved in this fun and informative day, please contact Dale Borgelt by email: [email protected] or phone: 3374 1035. 

Brookfield Show Helpers Do you have some time free during May? Perhaps you can spare some time to mix with the locals and soak up the atmosphere by helping us to staff our stand at the annual Brookfield Show.  We'd love to see you! Interested? Please contact Dale by email: [email protected] or phone: 3374 1035. Management Committee The Group's activities are directed by the Management Committee consisting of a Chairman, Treasurer, Secretary, Public Relations Officer and committee members who are elected annually at the AGM. The Management Committee meets every month and holds two Public Meetings each year. It's not an onerous commitment but it's a very worthwhile and rewarding one. If you'd like to join us, please email our Secretary at: [email protected] Do you have your own useful skills that we haven't even thought of? Ideas for a project? Start the conversation now by emailing our Secretary at: [email protected]