Projects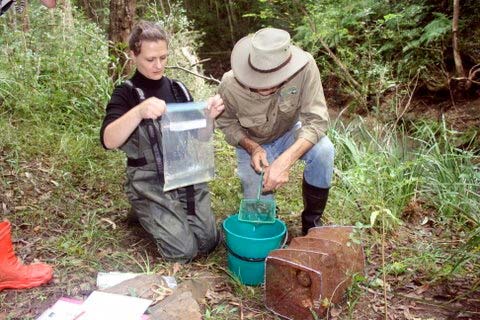 Moggill Creek Catchment Group actively seeks funding from a variety of organizations to support the work that it does. Membership fees cover some of the costs of our activities, but we need to apply for grants to enable us to undertake major projects.
Most of the projects for which we seek funding are for bush regeneration work on public land, but we also need grants to cover our administration costs, equipment, information booklets, events and workshops. Find out more about funding for our projects here.
Find out more about some recent projects ….
Anzac Tree Daisy Project
In 2017 the latest exotic weed to be assessed as a serious threat to our ecosystems is Montoana hibiscifolia, known as Anzac Tree daisy. It .. Read more about Anzac Tree Daisy Project
Bird Project
The MCC Bird Project was launched in Spring 2012 with the objective of raising the profile of birds in the Catchment. It includes educational and .. Read more about Bird Project
Bird Project – Deerhurst Street Park
Deerhurst Street Park is located within an area which has been carefully re-vegetated over the past 19 years by the MCCG Bushcare group "Section 12 – .. Read more about Bird Project – Deerhurst Street Park
Creek Health Monitoring
The aim of the Creek Health Monitoring Program (CHMP) is to provide baseline information on the aquatic ecosystem health of the Moggill Creek Catc.. Read more about Creek Health Monitoring
Kenmore State High School Streamsavers Project
The Student Stream-Savers project was launched in 2009 in partnership with Kenmore State High School and led by MCCG member, Damien Egan. Aims inc.. Read more about Kenmore State High School Streamsavers Project
Lord Mayor's Community Sustainability & Environmental Grants Projects
These two projects were made possible by the excellent cooperation and guidance of Habitat Brisbane. The objective of one is to protect a 200 squa.. Read more about Lord Mayor's Community Sustainability & Environmental Grants Projects
Pacey Road Project
This project is a partnership between residents of Pacey Road, Upper Brookfield, the MCCG, and the Brisbane City Council. It commenced in 2011 wit.. Read more about Pacey Road Project
Rowena Street Park Restoration Project
What you need to know about the Rowena Street Park Restoration Project The Rafting Ground Restoration Project, led by Malcolm Frost of MCCG is .. Read more about Rowena Street Park Restoration Project
Smith's Scrub
Mrs Edith Smith and her son John of Upper Brookfield have taken another important step in conserving the natural ecosystems of the Moggill Creek C.. Read more about Smith's Scrub