Platypus
Have you ever seen a platypus in the wild? Would you like to?
You might be surprised to learn that they live in the Moggill and Gold Creeks. Despite 150 years of land clearing, farming, and suburban development, these creeks still sustain a small population of platypus.
(Video credit: Jasmin Bourne)
The MCCG run an annual platypus survey in September. Although a sighting is not guaranteed, why not participate in our Annual Platypus Survey  this year?  Look at the map below to see where platypus have been spotted (yellow pins) during previous surveys.  Who knew we had platypus this close to our houses!
What can we all do to protect our platypus?
There are a number of things we can do to protect one of our iconic Australian mammals. 
REDUCE WATER CONSUMPTION 
Limit showers and watering garden times. Platypus rely upon permanent water to feed and mate. 
CLEAN UP RUBBISH 
In and around waterways to keep the water clean and clear. 
CUT CIRCULAR RUBBISH 
Cut rubber bands, hair ties and other rings that can entangle platypus and other wildlife. 
REHABILITATE BANKS 
Replant native vegetation along the banks. This will help stabilise the banks for platypus burrows. 
LEAVE LOGS 
Leave logs and branches in the waterways. It creates habitat for the food items platypus eat. 
EXCLUDE LIVESTOCK 
Fence off livestock from the waterway. This will help minimise bank erosion where platypus burrow. 
WEED REMOVAL 
Along banks (in conjunction with rehabilitation) and instream. Clean out aquatic weeds such as Elodea and Salvinia. 
FISH RESPONSIBLY 
Properly discard unwanted fishing line.
Look out for platypus, they can become hooked. 
USE WILDLIFE FRIENDLY YABBY NETS 
Use wildlife friendly alternative nets such as Open Top Nets instead of enclosed yabby traps (Opera House Nets*) which drown aquatic air-breathing mammals. 
RESPONSIBLE PET OWNERSHIP 
Control dogs around waterways especially at dawn and dusk. 
With thanks to Tamielle Brunt PhD student from University of Queensland for this contribution.
To download and share this information, please click on this link:  Happy Platypus flyer 10 steps 
*Opera House Nets
These nets indiscriminately and frequently trap and drown platypuses (as well as other air breathing animals such as rakali and turtles).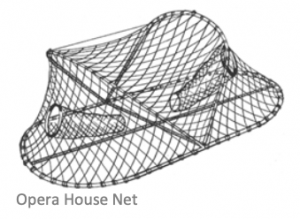 For more information please click on this link FAQ's Opera House Nets