Butterflies
Butterflies are significant pollinators. They are also a food source to many animals and insects, and therefore occupy an important place in the wider food chain.
Within the Moggill Creek Catchment, we have over 50 species from the five butterfly families: Papilionidae), Whites and Yellows (Pieridae), Nymphs (Nymphalidae), Blues (Lycaenidae) and Skippers (Hesperiidae).
Don Sands conducted a major survey of butterflies in our catchment between 2002 and 2008. His listing is available here:

DPA Sands Butterfly List (51 KB)
Please visit our online Butterfly Field Guide to view images of many of the insects in DPA Sand's listing.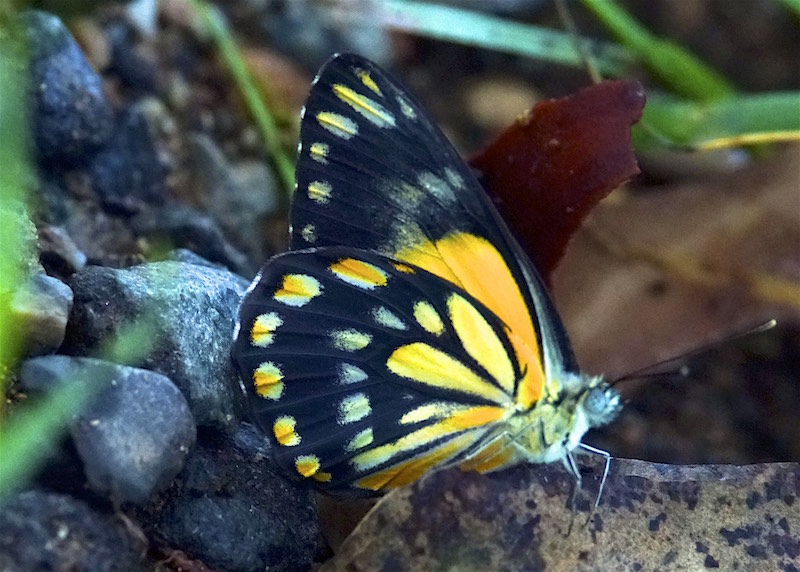 A Caper White Butterfly © Ed Frazer
About butterflies and moths
For a summary of general information about the Lepidoptera family, please click here.
Butterfly-attracting plants
There are many native plants which are host plants for specific butterfly species. You can plant them to attract these pollinating insects to your garden. For more info, click here.
The Richmond birdwing butterfly
This spectacular and colourful butterfly, local to south-east Queensland and northern NSW, is listed as vulnerable. There is a significant community groundswell to restore habitat for the Richmond birdwing butterfly, particularly in the western suburbs. Click here to read more.
Bringing back the Richmond birdwing butterfly
Cody Hochen is a Wildlife Conservation Partnerships Officer with Brisbane City Council. He has written a wonderful story about efforts by the MCCG and in Brisbane to establish "corridors" for the Richmond birdwing butterfly to bring it back to Brisbane. Cody's story provides some historical background, together with the current situation and plans for the future. Click here to read from an expert in the field!