Cody Hochen is a Wildlife Conservation Partnerships Officer with Brisbane City Council.
Earlier in the year we approached Cody for information about the Richmond birdwing butterfly. In spite of his hectic schedule Cody took time out to write the following article for our newsletter.
Paul Wright also allowed us to publish his stunning photo of a male Richmond birdwing.
We extend our thanks to both Cody and Paul for their generosity.
… and we present the following article for your enjoyment!
---
Bringing back the Richmond Birdwing Butterfly to Brisbane
Author:  Cody Hochen
The plight and recovery of the Richmond Birdwing Butterfly is well known amongst Wildlife Conservation Partnerships Program (WCPP) and Moggill Creek Catchment Group (MCCG) members.
From being a common sight in the streets of Brisbane to becoming locally extinct in just over 100 years, the Richmond Birdwing Butterfly has become a flagship species for recovery in south-east Queensland.
Most MCCG members would know someone who has been involved in some capacity, most notably, Dr Don Sands and Dale Borgelt who have been there from the beginning.
Dr Sands has taught me a lot and has been the driving force behind the recovery and mass planting of Pararistolochia praevenosa (Richmond Birdwing Butterfly Vine) throughout its range. These plantings have led to a marked recovery of existing populations on the southern Sunshine Coast and the Gold Coast and its hinterland ranges. Despite similar plantings in Brisbane, Richmond Birdwing Butterflies are yet to recover.
To build on the 30 odd years of work from many enthusiasts, WCPP started a project called 'Bringing back the Richmond Birdwing Butterfly to Brisbane' in March of 2017. With over 50% of bushland in Brisbane on private properties, we are in the ideal position to work with some of our 700 WCPP properties throughout Brisbane to help achieve our goal.
With the help of WCPP members, Richmond Birdwing Conservation Network (RBCN), MCCG, Habitat Brisbane Groups and Dr Sands our first goal was to find what vines had been planted and ground truth them.
Over 6 months we located 1100 Pararistolochia praevenosa on private and public land, mostly in the western suburbs of Brisbane. It was interesting to find them spread in a corridor throughout the entire western suburbs all the way from Chelmer to the Gold Creek Reservoir.
Finding these vines allowed us to create a database and in-turn create a mapping platform in Atlas of Living Australia of existing vines. This map also allowed us to identify gaps in the corridor and find suitable properties with the right habitat type in the area to help fill the gap.
Our aim is to have a core site every 2 – 3 kilometres within this corridor.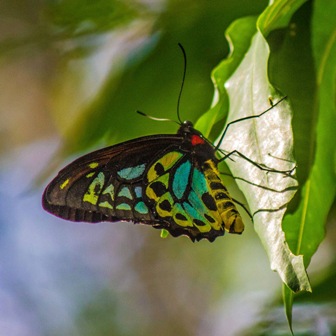 ©  Paul Wright
In the past small populations in Brisbane have relied on one or two isolated sites to survive. This has resulted in "in-breeding depressions" which have led to local extinction. Having vines spread throughout a corridor would allow female butterflies to travel throughout Brisbane without having to rely solely on laying their eggs on one isolated food source to survive.
So far, adding to the vines found, we have planted a further 330 vines on WCPP properties. These have been either to bulk up smaller patches of existing vines or create a new 'core site' in a gap in the corridor. Being a specialised vine that likes constant moisture and small doses of sun, it has been a difficult task finding appropriate sites.
After plenty of research and working with property owners to plant the vine we have bought the number of vines to 1430 spread across 52 WCPP properties, 7 Habitat Brisbane sites and 1 Brisbane City Council Reserve in Brisbane.
Our hope is to join up with current and future plantings in other councils both north and south of Brisbane. Discussions are under way to create a similar corridor from Samford, north to existing populations of the butterfly west of Caboolture and also throughout the Logan Council, south to an isolated population in Ormeau.
Like Brisbane, these plantings are to boost numbers as well as add to natural occurring populations and help existing populations of the butterfly move from isolated areas and spread throughout South-east Queensland.
As well as fragmentation and inbreeding, another threat to Richmond Birdwing Butterflies is the introduced exotic vine Dutchman's Pipe (Aristolochia elegans).
This close relative to Pararistolochia praevenosa, Dutchman's pipe is deadly to Richmond Birdwing Butterflies, tricking females to lay eggs on them and killing the young larvae. Unfortunately, Dutchman's pipe is prevalent throughout the western suburbs of Brisbane and grows in similar rainforest/riparian habitat to the Birdwing Vine.
Collecting information on the sites on which Dutchman's pipe occurs and working with WCPP members to control this invasive vine has been a part of the project.
After a long dry spell, we are waiting for more rain to plant another 100 vines in the western suburbs and to the north and south of Brisbane to help fill in the gaps.
We hope to continue to plant 100 vines a year as well as work with WCPP members to maintain their existing vines and tackle the ghastly Dutchman's pipe. Maintenance involves fertilising, initial watering and continual watering during dry spells.
We are privileged to be in a position to help build on the 30 years of the recovery of the Richmond Birdwing butterfly in Brisbane. It is positive to be working to a plan and we feel confident that this stunning butterfly will once again call Brisbane home in the near future.

For more information about butterflies in our catchment, please click here.