This article and accompanying photos were kindly provided by Ed Frazer (August 2017), who has lived in the district for 45 years and is well known for his award-winning photos of birds on his Brookfield property.
---
Working in the bush has its hazards and biting creatures are one of the most painful and frequent! We have quite a few that you might encounter in the Moggill Creek Catchment.
Which is the worst? Well they have all had a go at me and this is my list rating from one to ten. What is your experience?
1. Midges:

Don't really sting, but they certainly itch!

2. Bees:

Sting doesn't last, but a problem if you are allergic

3. Hairy caterpillar:

Hurt and cause a rash that hangs around

4. Scorpions:

The ones with the small pincers are the worst

5. Large paper wasp:

Sting is severe but doesn't last long unless a lot get you

6. Jumping spider:

Bite is not the problem – the toxin rots the flesh from some bites

7. Small paper wasp:

Hurt more than the bigger ones and last longer too

8. Assassin bugs:

Really hurt and last a long time and the flesh around the sting rots

9. Bull ants:

One you'll remember for a very long time …

10. Bullrout

(in the creeks):

This one is a lifer – you'll never forget it !!!
---
Hints and tips
Clothing
Wearing suitable clothing and using insect repellent helps avoid trouble.
Treatment
Ice, hot packs, vinegar, calamine lotion – nothing really works for me, but it can help distract you from the pain.
Anaphylactic reaction
Can be a serious problem for a small number of people. Get an ambulance – don't muck around.
Carry an Epipen if you know you may have a problem.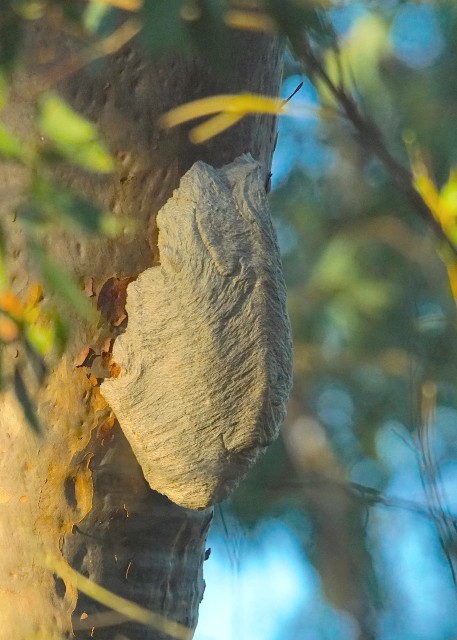 Ropalida romandi. I haven't been stung by this little Yellow Paper Wasp and don't care to!
It swarms and chases intruders and stings multiple times with a very nasty sting.
Usually it is high in a tree, but can be attached to the walls of a house.
The entrance is at the bottom of the nest.