In this Bush Bite, we pose some questions to Vicki and Paul Campbell about their observations of Barking Owls and Boobooks and the owls' breeding behaviours over many years.  Our heartfelt thanks to Vicki and Paul for sharing their experiences and photos with us! 
---
Have you seen where the Boobooks are nesting?
We have two large Eucalypts on our place which have good nest hollows. I think Boobooks have used both trees. The first year of breeding was 2005.  In that year an adult was seen to exit a hollow in one of these trees. The following year two juveniles were seen emerging from a hollow in the other tree. In this case the babies' begging call (Trill calling) was heard before they emerged from the hollow.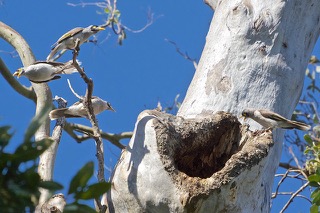 ---
Have they bred there every year?
Breeding occurred every year from 2005 to 2010. There was no breeding from 2011 to 2014. Trill calling was heard from our yard in 2015 and 2016, but I'm not confident that they bred here as the calling was only heard for one night and three nights respectively. When they breed in our place the trill calling is heard consistently for 4 to 5 weeks, including numerous sightings of daytime roosts.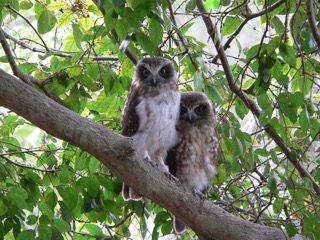 ---
How did one lose its eye?
We don't know how one of the juveniles lost its eye but one of two juveniles was located on the ground in 2010 after our attention was drawn by Pied Butcherbirds. It is quite possible that the butcherbirds were responsible for the eye loss.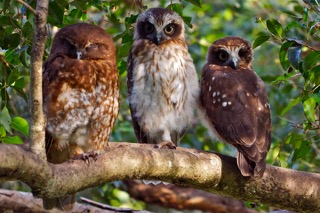 Could it still feed itself?
The juvenile with the missing eye would still have been fed by the adults when the photo was taken.
---
How long did they feed their young?
In 2010 trill calling was heard from 20 November til 31st December. I assume the adults were still feeding the young at the end of this period.
In 2006 trill calling was heard from 3rd December till 11 January 2007. There was a sighting of a juvenile catching its own food at the end of this period.
---
Did the Blue-faced Honeyeaters drive them off?
The daytime roosts were often located by the mobbing activities and calls of Blue-faced Honeyeaters, Pied Butcherbirds, Pied Currawongs and Noisy Miners. Generally the owls stayed put.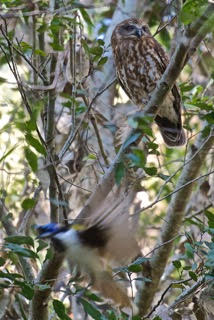 ---
How close could you get to them?
We could get fairly close to the birds. Their favourite roost was the lower branches of anaxe-handle wood tree, Aphananthe philppinensis. This was just above head height and could be viewed easily due to the slope going down to the creek.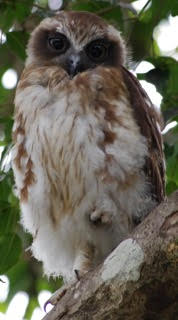 ---
Do they keep you awake at night with their calling?
Trill calling started just on dusk and was sometimes heard during the evening but it did seem to cease. Maybe the birds moved away for part of the night. We certainly weren't kept awake by their calls.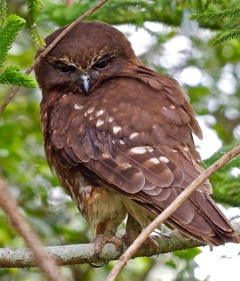 ---
Did they stay around when the Barking Owl arrived?
The Barking Owls preceded the Boobook Owl breeding records. The Barking Owls were in our yard and along Moggill Creek from October 2004 til July 2005. That was a joyous time!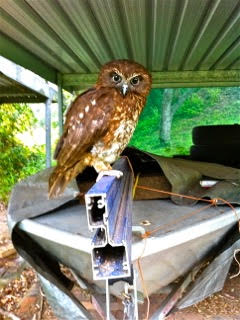 ---
Have you seen what they are feeding their young?
No real observations of food were seen. We did find the remains of a Noisy Miner under one of our Eucs which I suspect was a food item. On one occasion one of the juveniles was seen to catch something small, presumably an insect.You may also be interested to know that there were usually two juveniles, but only one on two occasions and three on one occasion.