Lately we are having a Butterfly Bonanza! The seasonal conditions have been perfect for a build-up of butterflies to numbers we haven't seen in years.
What is adding to their presence is they are being concentrated on the few plants that are in flower at this time.
There is the usual big influx of migrant species such as the Lemon Migrant and the Caper White.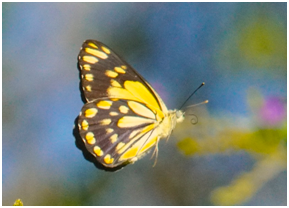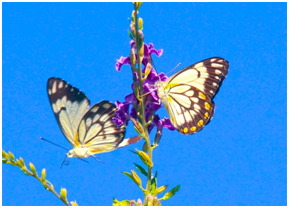 Caper White – © Ed Frazer
The Caper Whites are very variable and all colour forms are present. The migration seems to be much later this year as they usually one of the first butterfly species to arrive.
The Lemon Migrants are also very variable and both the light and dark forms are present this year.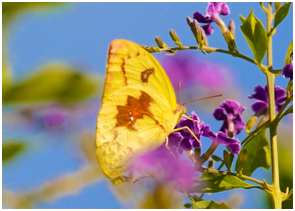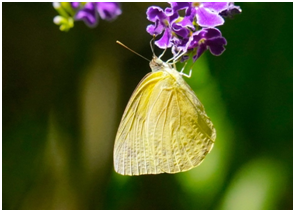 Lemon Migrant – © Ed Frazer
In 2020 we are seeing a few Yellow Migrants that are far less common. They have yellow underwings and white forewings on the upper-side.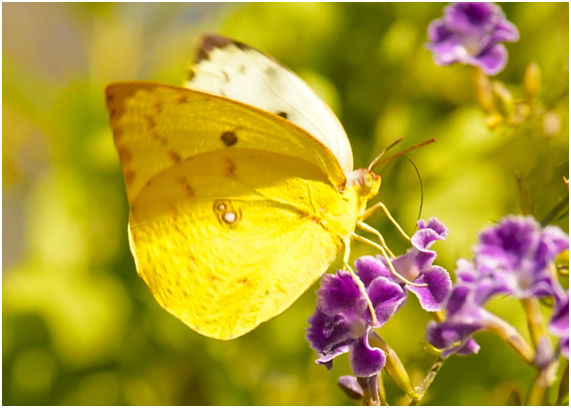 Yellow Migrant – © Ed Frazer
This year has again been a bumper year for Blue Tigers. They are infrequent migrators, but when they do come they appear in large numbers. A few seem to be permanent, but migrations bring in the big numbers such as we have this year. Little is known of their migration movements.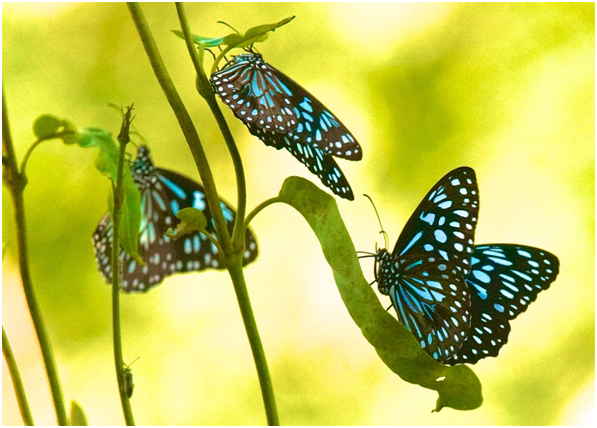 Blue Tiger – © Ed Frazer
Another migrant is the Scarlet Jezebel. Some breed locally on Mistletoes, but large numbers come in from the south. When they are flying their upperwings are visible and they look like a plain white butterfly. When settled their spectacular colours are on display. They prefer the Red Bottlebrush flowers whose scarlet flowers show up that the butterfly's colours are more crimson than scarlet as their name suggests.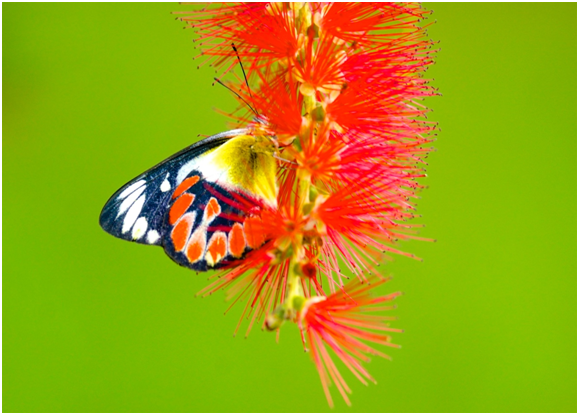 Scarlet Jezebel – © Ed Frazer
Of the resident species the Varied Eggfly is doing well, with lovely blue rings on the male's upper wings.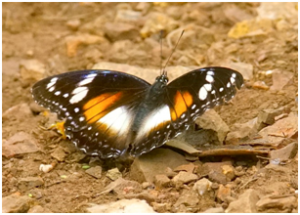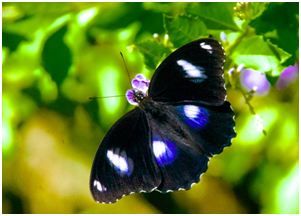 Varied Eggfly – male (left) female (right) – © Ed Frazer
Another spectacular resident is the Blue Triangle.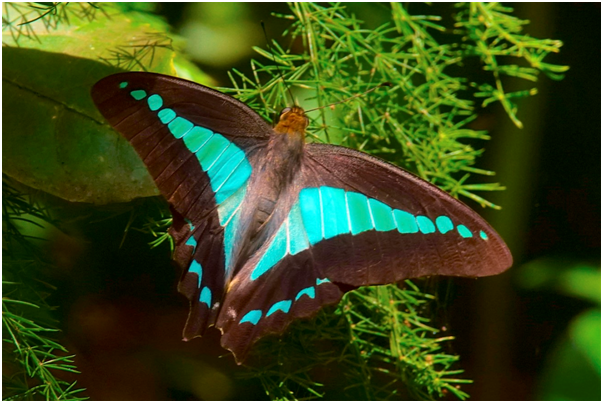 Blue Triangle – © Ed Frazer
Among the less common species that are around in good numbers this year is the Glasswing.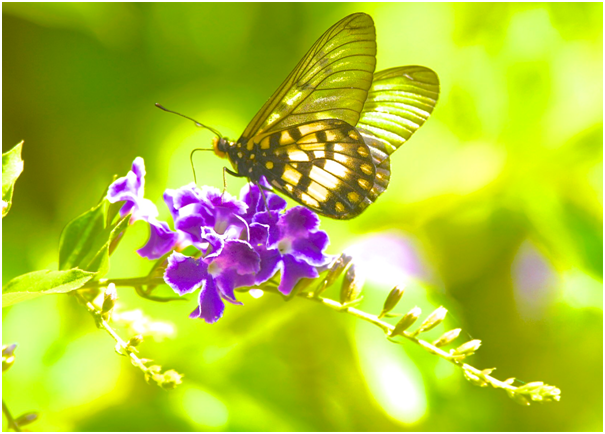 Glasswing – © Ed Frazer
There are two day-flying moths with the butterflies that are interesting. The Hawk Moth flies with very rapid wing beats – so fast that even with my camera on a shutter speed of one two thousandth of a second there is still some wing movement in the photo. It hovers less than a second at each flower and sucks nectar with its exceptionally long proboscis making it very difficult to photograph.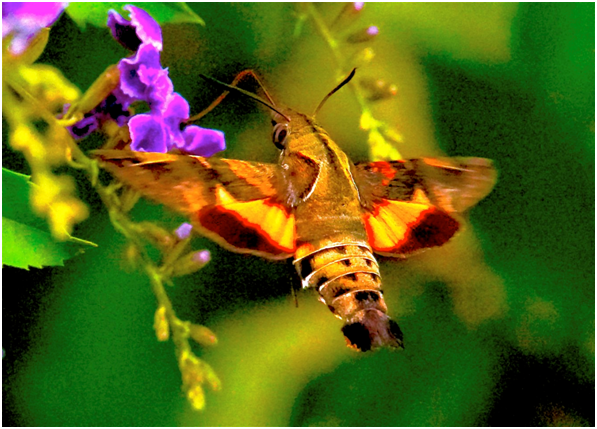 Hawk Moth – © Ed Frazer
The Crow Moth mimics the Crow Butterflies. The wing pattern is very similar and when encountered it will spread its wings to show its full pattern.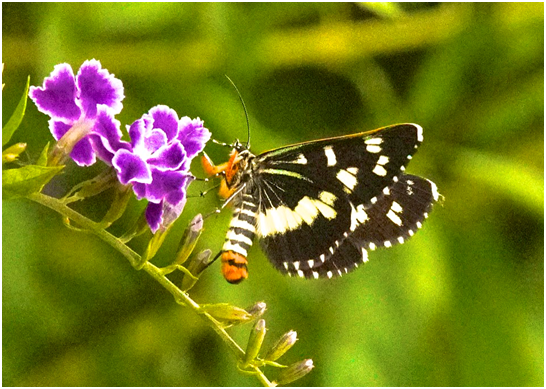 Crow Moth – © Ed Frazer
Photographing butterflies is not easy. I find it more of a challenge than photographing birds. I use a 300mm lens, but any zoom lens would be suitable. I find with my 500mm lens it is too difficult to keep the butterfly in view as they don't stay still very long.
They are active when warm in the middle part of the day which makes shadows a problem on sunny days, so warm overcast days are the best.
I find that later in the afternoon some species are slowing down and easier to capture.
I recommend setting the aperture well open at f2.4 to f5.6. This will allow the butterfly to be in focus and the background will be less distracting as it will be nicely out of focus. If you can find flowers at the edges of trees so there is a nice even background some distance away as in the Scarlet Jezebel photo above.
Plenty of patience is needed so a take a chair and wait and soon some butterflies will arrive on your chosen flowers. Don't bother trying to take photos of butterflies in flight. Even if you succeed they don't have much appeal.
Right now is your best and probably last chance to get some good photos of butterflies for entering in this year's MCCG's Photography Competition.