We have three spectacularly coloured birds in the Moggill Creek Catchment that have similarly beautiful colours, but very different lifestyles.
 They are the Rose-crowned Fruit-Dove, The Noisy Pitta and the Rainbow Bee-eater.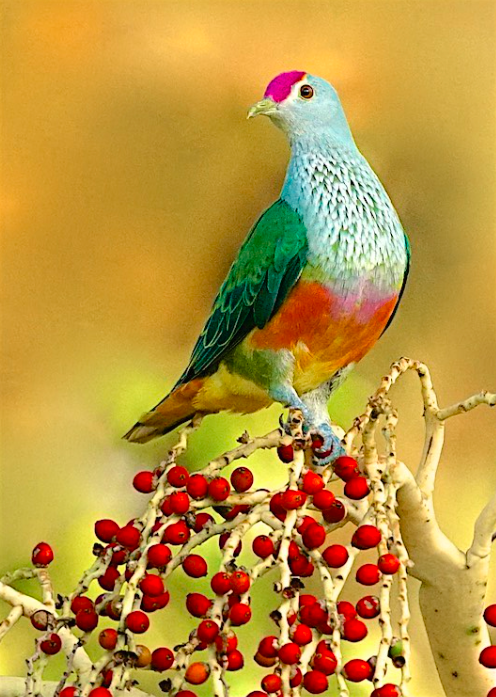 Rose-crowned Fruit-dove – © Ed Frazer
The Rose-crowned Fruit-dove visits from the end of September and leaves around Easter each year to move to warmer areas up the coast of Queensland although I have experienced one overwintering in Brookfield. They breed while here in a nest that is not more than a few sticks in the fork of a tree 5 metres or more off the ground. They lay just one egg.
The diet consist mainly on native fruit and they prefer small purple/black fruit which they swallow whole. They also will take small figs and Lillipillies.
Despite their brilliant colours they can be well camouflaged, and they crawl through the branches of the trees in which they are feeding. They are surprisingly abundant in the catchment and have two quite distinctive calls that give their presence away. I am sure they are prey of some raptors such as Sparrowhawks and Goshawks and unfortunately, they are frequent victims of our window strikes.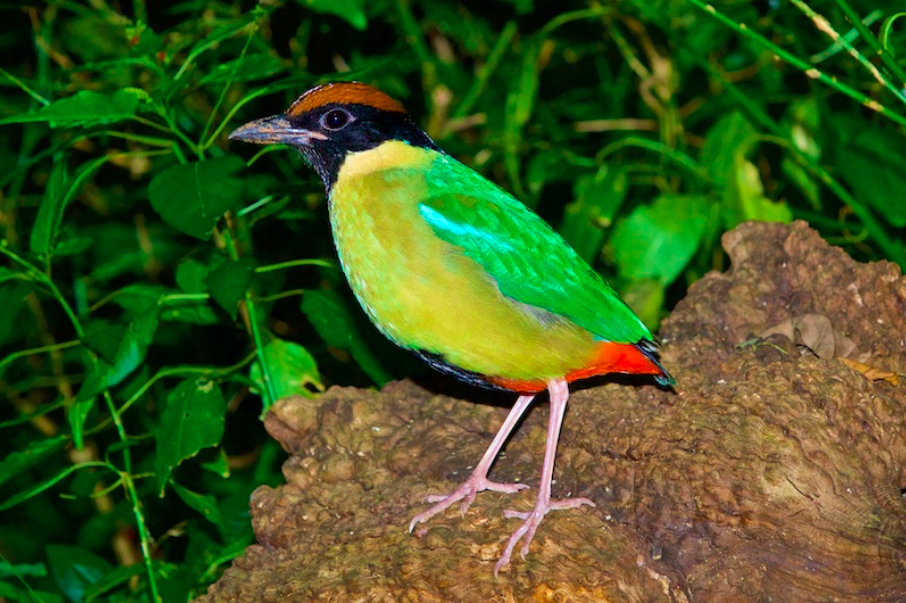 Noisy Pitta – © Ed Frazer
The Noisy Pittas don't live up to their name in the Catchment as they seldom call during the winter months when they are here. They come down from places like the Toowoomba Range and the Bunya Mountains where they breed in the summer and where they call incessantly while raising their young.
The Noisy Pitta is always associated with dense leaf litter where they forage for insects and worms. They are a very wary bird as they have to be on the lookout for danger which is unfortunately mainly domestic cats in the Catchment. By September they have gone back to higher ground and I am not aware of any staying in our area over the summer.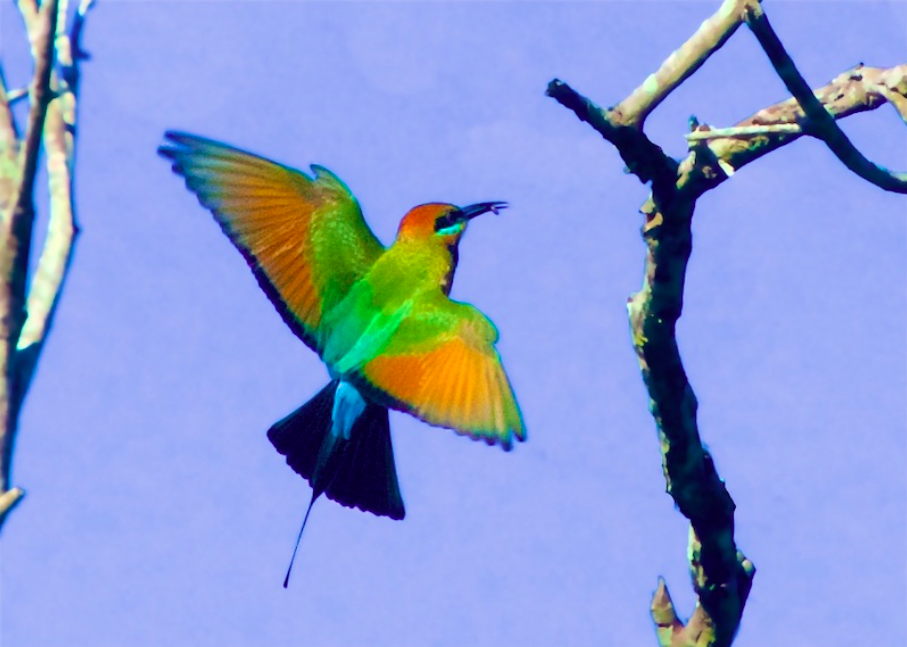 Rainbow Bee-eater – © Ed Frazer
The Rainbow Bee-eater is the only one of the trio that frequents the Catchment all-year-round. In the 1970s and 80s they were very common around our paddocks and often lined up along the fences from which they made darting sorties to catch the bees that make up the main portion of their diet. By 2000 they were seldom seen or heard so I encouraged my family to keep beehives and now we see them frequently and we also get a plentiful supply of honey.
They breed communally in tunnels made in the sandy banks of the Brisbane River. They are often heard before they are seen, and they make an attractive rolling drrrrt sound as they gracefully dart around catching bees. They are said to eat other insects such as wasps and dragonflies, buy I see them only eating bees. I am not aware of any serious dangers to the species and they are widely spread around the coast of Australia.