Two species of Wallaby are common in the Moggill Creek Catchment area. They are the Red-necked Wallaby and the Swamp Wallaby.
The Swamp Wallaby is a little smaller than the Red-necked, and on our property they occupy different areas.
The Swamp Wallaby lives in the more heavily covered areas and is seldom seen during the daytime. It feeds on a wide range of shrubs and weeds and also takes fungi and some grasses. It is usually on its own or seen as a mother with its joey.
The Red-necked Wallaby grazes on grasses and weeds in the more open areas at dawn and dusk, and it will keep on feeding into the daylight in overcast weather and during drought when there is little succulent grass or weeds.  The Red-necked Wallaby is more sociable and in seen in small groups of females that are probably previous offspring.
The two species are easily distinguishable. The Swamp Wallaby can be identified by the 'Robber's Mask' on its face and its white-tipped tail.  From a distance the Swamp Wallaby travels in a more horizontal position than the Red-necked Wallaby.
The Red-necked Wallaby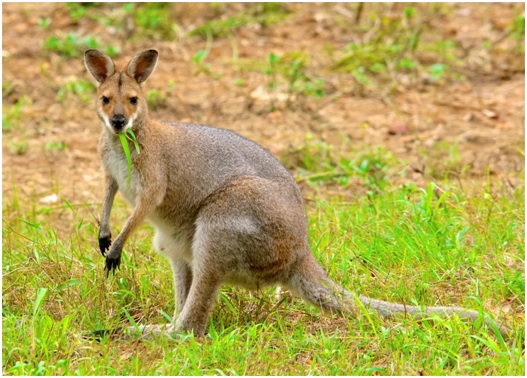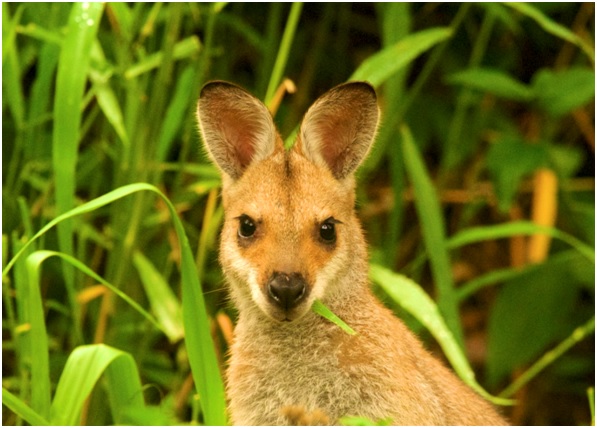 Both Wallabies were captured on my Infra-red cameras feeding in the dark as late as 11pm at night.
When we came to Brookfield in the early 1970s we thought we had Pretty-faced Wallabies (now commonly called Whiptails). Gordon Grigg said there used to be a group living up Gold Creek Road near Brian Leahy's property. It would be interesting to hear if anyone has them on their property. They have a stronger white stripe on the face and white ear-tips.
Gordon says there are Red-necked Pademelons, smaller than the other wallabies, near the Gold Creek Reservoir. I have seen one on our property at Adavale Street, but it disappeared under the Lantana before I could photograph it.

A close-up shot of the Swamp Wallaby: