Brisbane is reputed to be the only major city in the world in which a significant proportion (around 20% – 30%) of houses have the local apex predator living in their roof spaces! In the case of Brisbane, the apex predator is the carpet python (Morelia spilota). Carpet pythons can reach up to 4m in length and 15kg in weight and can live for around 20 years in the wild. They are non-venomous and catch their prey by constricting it and swallowing it whole. The medium-sized carpet python in the photo had caught a crested pigeon (Ocyphaps lophotes) in my garden and is in the process of swallowing it.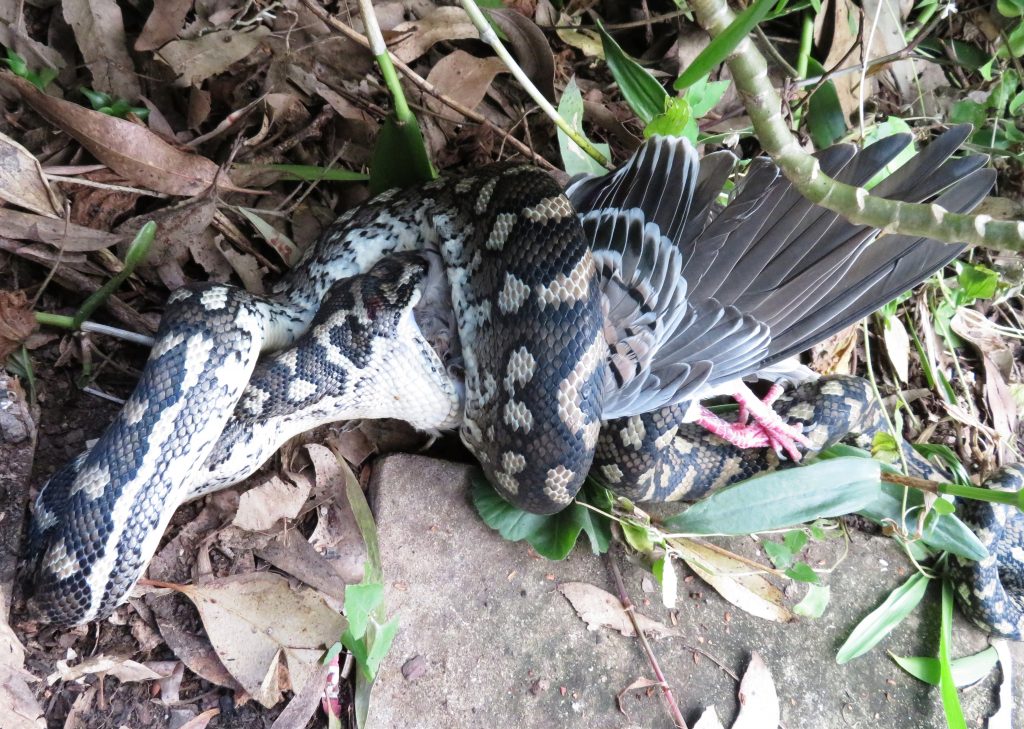 Carpet pythons have adapted well to the urban environment, finding roof spaces an excellent substitute for tree hollows, which have become less available over time due to urban expansion and tree clearing. Trees typically take 100 years or more to develop hollows and old trees are becoming increasingly rare, (which is a problem for many birds and animals that rely on tree hollows for nesting sites). Having a carpet python in your roof has benefits in that they are very effective in controlling rodents. However, the fact that carpet pythons swallow their prey whole can create a problem for them. Some years ago, while watching television one evening, I was disturbed by a loud noise from my balcony. It turned out that a very large carpet python (which I knew lived in the roof) was thrashing around and knocking over several pot-plants. It had caught and swallowed what was almost certainly a brushtail possum (Trichosurus vulpecula), as evidenced by a large bulge in the middle of its body. Unfortunately for the python (and my pot plants) this prevented it from re-entering the roof space through its usual hole, so it took over the balcony for several days, while digesting its prey!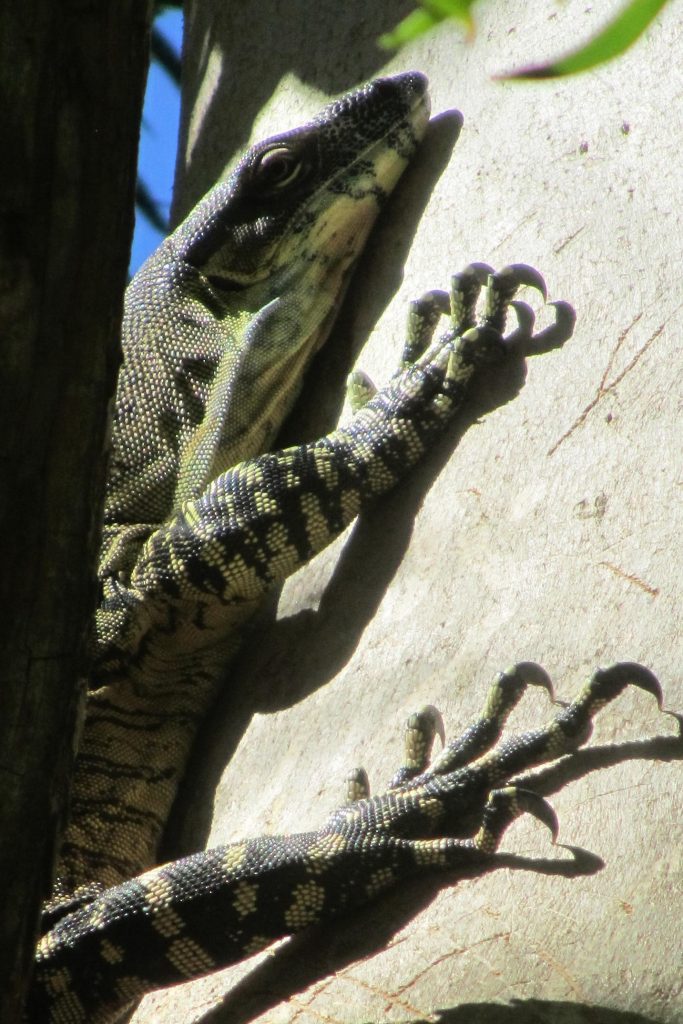 In the outer western suburbs of Brisbane, the role of apex predator may be occupied by the lace monitor or tree goanna (Varanus varius). These can reach 2m in length and 14kg in weight. Unlike carpet pythons, lace monitors have a venomous bite. Previously it had been thought that bites by lace monitors were prone to infection from bacteria in their mouths resulting from eating carrion, but recent research has shown that all monitors may be somewhat venomous. Best to keep them out of your roof!
Photos and text: Jim Pope
---
Published in