That's the best way to describe our latest newsletter for Winter 2020!
This issue has something to please everyone! It's loaded with photos and great articles.
We meet our new PR Officer Sam Bayford-Brown who certainly hasn't let the Corona Virus lockdown get in her way!
And another new member Dr Manda Page, who works for the Queensland Government, will educate us about threatened species here in the catchment.
Are you struggling with the scourge of Balloon Vine? Bryan Hacker can help you!  And he also profiles the native Binung Fern which is available for members from the Nursery.
As if that's not enough, Bryan shares a lovely photo of a very special spider's web.
Ed Frazer never fails to astonish with his dazzling photos. In this issue Ed's shutter is focused on Scarlet Jezebel butterflies, their pupae and the adult butterfly – a great read and a feast for the eyes! Ed has also written a wonderful profile about longstanding MCCG member and horticulturalist Andrew Wilson.
Phil Bird brings us up-to-date on the number of frog species recently surveyed in the catchment. Have you heard of a Bleating tree frog? Go check out Phil's article!
And our Chairman Jim Pope delivers a call to arms to double the area of protected land in Queensland from 8% to 17%.
GRAB A CUPPA AND HEAD TO OUR WINTER NEWSLETTER!!  Just click the link at the top right of your screen! You'll be glad you did!
Our sincere thanks to Newsletter Editor Cathi Lawrence for delivering such a vibrant issue, and to our loyal and hard working contributors for their diverse and quality content. We acknowledge the skills and effort of so many MCCG members – we are indeed fortunate.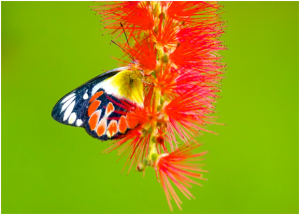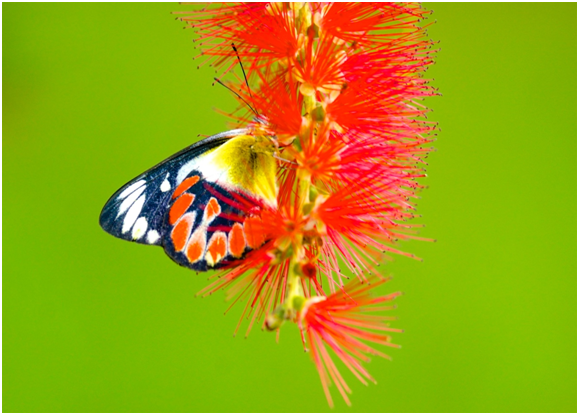 The stunning Scarlet Jezebel – © Ed Frazer