There is no more remarkable or vibrant member in our group than Dale Borgelt, our Public Relations Officer.
Dale has contributed to the local community in countless ways for over 40 years.
Dale is the brain-child behind hundreds of successful MCCG events, including our annual Kids Days, countless meetings, community displays, cottage talks, guest speakers and our yearly stand at the Brookfield Show.
Her community efforts have extended beyond the MCCG, and Dale has also contributed significantly to Neighbourhood Watch over the years.
We are very pleased to report that, at this year's Brookfield Show, Dale's services to the community were recognised when she was awarded the Brookfield Show Society Community Award for 2018.
Dale was presented with the award by Brisbane's Lord Mayor, Alderman Graham Quirk, with the Hon. Jane Prentice (Federal Member for Ryan), Councillor Kate Richards (Pullenvale Ward) and Dr Jenny Paratz (President of the Brookvale Show Society) in attendance. Senior Sergeant Murray Watson of the Queensland Police Service also attended, representing Neighbourhood Watch, as well as Dale's two daughters.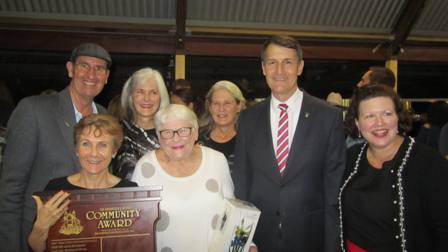 Dale (centre) with (from left) Sgt Murray Watson, Jenny Paratz, Dale's daughters, Graham Quirk & Kate Richards
We believe there is no more deserving recipient of this award and we would like to take this opportunity to congratulate Dale and sincerely thank her for her dedication, energy, sparkling personality and all that she brings to the MCCG.