---
A new exotic weed has been assessed as a rapidly spreading threat to our ecosystems.
Montanoa hibiscifolia known as Anzac Tree Daisy is a native of Central America. It was introduced to Far North Queensland as a garden plant.
This is a CALL TO ARMS to alert landholders to treat all trees that are likely to flower BEFORE THE END OF MARCH and the likelihood of the weed becoming more widely established.

---
Invasion by Anzac tree daisy presents a clear risk to a substantial proportion of our remnant forests and it appears to be spreading rapidly. It seems to be well adapted to our environment and invades rainforest margins, gullies, disturbed areas and road embankments. The plant is a prolific seeder and shows potential to be highly invasive in the riparian zones and fringes of the local dry rainforests.


It is easily missed until April – May when it is a mass of flowers.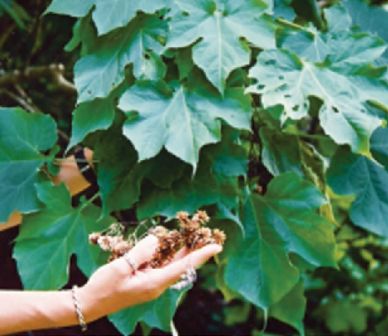 There is presently little information on the distribution of Anzac tree daisy

throughout the catchment however

several infestations have been identified in the upper Wonga Creek and Gold Creek sub-catchments. These are locations where it is highly likely to threaten remnant forests.The weed is likely to become more widely established elsewhere, particularly in the lower disturbed slopes and the fringing forests near the creek.
Several infestations in the upper part of Wonga Creek sub-
catchment are being managed by landholders who are Land for Wildlife partners. SEQ Water
(the managers of the Gold Creek Water Reserve) have also treated an infestation in the same
area.
MCCG will work with landholders and Brisbane City Council in a concerted effort to manage infestations on both sides of Wonga Creek downstream to Savages Rd in the next 12 months. The first action will be to promote the killing of all mature trees to limit seeding, followed by hand removal or herbicide treatment of seedlings. Outliers near the creek and on the edges of remnant forests will be treated first, to isolate the core infestations.
Following this first thrust in Wonga Creek sub-catchment, MCCG will liaise with BCC and SEQ Water on coordinated activities for addressing the threat across other parts of the catchment.
---
How to respond
Please unite and join us in this initial phase.
Experience to date indicates the plant is readily killed by cutting and pasting the lower stem, and by basal bark spraying with herbicides.
Either kamba500 or glyphosate (Roundup) are recommended.
Additional information is available in the
Biosecurity Queensland
fact sheet:
{module_literature,i,177671}