Deerhust Street Park is a small area of parkland between Gap Creek Road and Brookfield Road.
It is an area maintained by our Section 12 Bushcare Group, led by Mike Humpheys.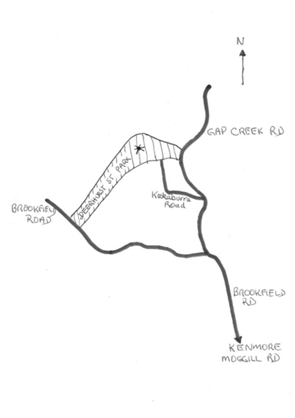 The diversity of wildlife within this small parkland is absolutely remarkable, and testament to the work of Mike and his team.
Deerhurst Street Park is also the site of a monthly survey by a dedicated team of local birders Jim Butler, Ian Muirhead, Kaye McLennan and Chris Read.
These official surveys are conducted according to strict criteria and the data is sent to Birdlife Data.
A Red-browed Finch,
one of many birds seen in Deerhurst Park.


(Photo courtesy of Ed Frazer)



Although the park is just 1000m long by 60m wide, over 75 different bird species were sighted during our most recent compilation of data.
Click here to see an overview of the project, together with the latest report (August 2018).