2016 marks the 19th year of the MCCG's operation. A very successful and well attended AGM (57 Attendees) was held on Monday 28th November.
A comprehensive and engaging report was provided by MCCG Chairman Warren Hoey.
It provided an insight into the diverse activities undertaken by the group and the extraordinary dedication of its section leaders and bushcare volunteers.
Interesting facts 2015-16:
Membership now stands at 540
The Nursery distributed 14,106 free plants in 136 species native to the
catchment
Volunteers donated 2590 hours of their time to 90 working bees
Our catchment has the highest Land for Wildlife uptake
of any catchment in the Greater Brisbane area.
Interesting people:
Warren paid tribute to the MCCG's many dedicated volunteers, in particular
longstanding Newsletter Editor, Graeme Wilson. He presented the Treasurer
Joanna Yesberg with an award and expressed gratitude to
members such as Gordon Grigg and Graeme Wilson who have remained loyal to the group since its establishment 20 years ago.
Read more:
The full Chairman's Report is available here. It holds reports and pictures from bushcare groups and projects, and it details some of the challenges ahead. It is a recommended read. See also the MCCG Facebook page.

New management committee:
Cr Kate Richards, Councillor for the Pullenvale Ward, presided over the election of the 2017 committee. Cr Richards commended MCCG's initiative to convert delivery of its quarterly newsletters to email.
Guest speaker:

The guest speaker for the evening was Professor Rob Capon of University of Queensland's Institute of Molecular Bioscience, who presented a riveting discussion about an exciting and simple new way to reduce cane toad tadpole numbers. Stay tuned to our website for more info – in the meantime, y
ou can learn more about this initiative by clicking
here
.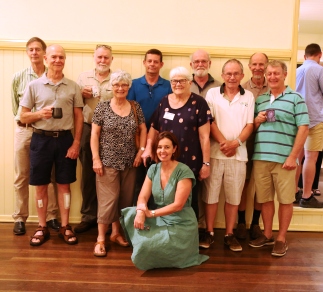 Some new committee members for 2017


(photo courtesy of Dale Borgelt)