Let us entertain you over the Christmas break! Our Summer 2018 Newsletter is a treasure.
For starters, it features a wonderful collection of stories behind winning entries in our Photography Competition. This makes for very entertaining reading!
Learn what climate change has in store for birdlife, bid farewell to some of our longest standing volunteers and read the latest on the MCCG Canetoad Challenge.
We have a report from a thriving Bushcare group and a snapshot of the MCCG's 2018 successes provided by our Chairman, Jim Pope.
There are plenty of other great articles on a number of topics – we guarantee to keep you captivated!
A heartfelt thank you to our Newsletter Editor Cathi Lawrence and to all those who took time to the submit the diverse range of content for this issue.
To start reading, please click the "Download our current newsletter" link on this page.
REMEMBER: we're always on the lookout for new local stories! If you have one to share, please START WRITING! You can send your story or request more info from our Newsletter Editor at [email protected]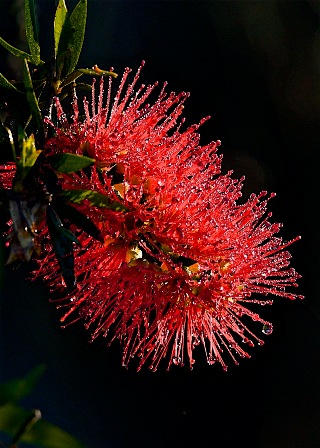 'Morning Mist on Red Bottlebrush', an entry by Ed Frazer in our 2018 Photo Competition.
Open your newsletter to see more winning entries and the stories behind them!