Here's a peek at the neckwear the kids will be creating this year at the very popular jewellery-making stand at Kids' Day at the Cottage.
Each year our wonderfully generous and talented Deborah Craig designs something with a focus on natural products for the kids to make.
For 2017 these will include hand-made pottery beads, and bamboo, and seeds.
Here is a snapshot of Deborah modelling one of her fabulous creations!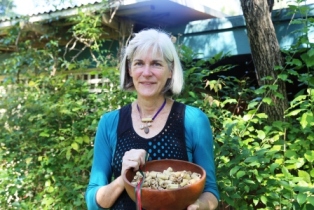 There'll be all sorts of other activities too, including two wildlife shows!
Come and see what else we have in store! Kids Day 2017 will be held at the Cottage at the end of Gold Creek Road on Sunday 28 May from 10am until 1pm.