The week of 4-11 September was a time to reflect on the loss of so many of our animals, plants and ecosystems… but it's not all bad news!
On 7 September (National Threatened Species Day) a small group of MCCG volunteers played their part in protecting the vulnerable Richmond Birdwing Butterfly.
They took time out to plant around 40 Richmond Birdwing vines (Pararistolochia praevenosa) alongside Gap Creek near Kookaburra Street at Kenmore Hills.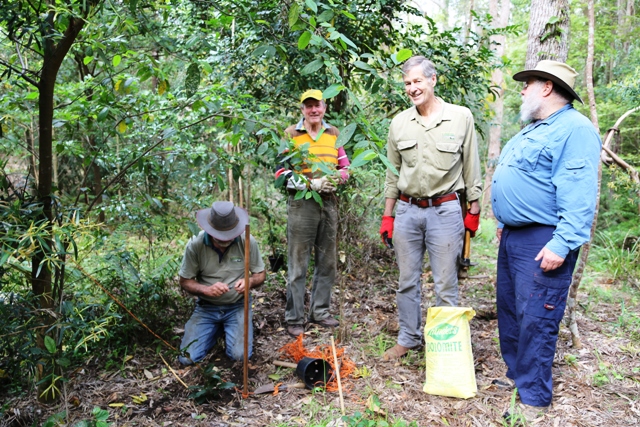 Photo supplied by Dale Borgelt and Bryan Hacker
---
About the Richmond Birdwing
Back in 1870 the Richmond Birdwing was abundant in the streets of Brisbane. Sadly, today there are no remaining permanent populations. Extensive work is being carried out to create sites across Brisbane to link areas where Birdwing vines are already present and to create habitats.
MCCG is taking an active role in plantings throughout the Western Suburbs. This area has been recognised as having the potential to become a core area for the recovery of the butterfly.
For more info, please visit the Richmond Birdwing Conservation Network website.
---
About National Threatened Species Week
Did you know that on 7 September 1936 the last remaining Tasmanian Tiger died in Hobart Zoo? On this day 60 years ago the thylacine species became extinct.
National Threatened Species Day is an annual event on 7 September to highlight the mistakes of the past and provide opportunities to take affirmative action. MCCG is proud to support this initiative and to play an active part.
For more info, please see the Queensland Department of Environment and Heritage Protection website.