Thanks to the generosity of the Red Cross, the MCCG now has an Automated External Defibrillator (AED) installed at the Nursery. This will improve safety for our volunteers, due to the isolated nature of the Cottage.

The Lifeline View defibrillator has an innovative LCD video feature that literally shows rescuers how to perform each step of a Sudden Cardiac Arrest rescue in real time – in accordance with the latest Australian Resuscitation guidelines.
The colour video is reinforced by loud and clear audio and corresponding text that can be understood in noisy environments. For example, when the VIEW's audio says and text reads: "Place pads on patient's chest," the video shows exactly where to place the pads.
The defib was paid for in full by a grant received from the Office of Liquor and Gaming Regulation (OLGR).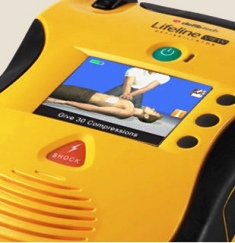 *Project Defib is a Red Cross initiative which aims to reduce the number of deaths caused by sudden cardiac arrest by making defibrillators and related training and support accessible to sporting clubs, schools and not for profits across Australia. More than 30,000 Australians suffer from sudden cardiac arrest every year of which only 5% survive. Immediate access to a defibrillator can lead to a 70% survival rate if applied quickly. Project Defib is a national program which enables every sporting club, school and not for profit in Australia access to a subsidised Lifeline VIEW Defibrillator package which includes training and ongoing support. For more info, please visit their website.