Moggill Magic this issue features the Moggill Creek Catchment Group Newsletter which has been published quarterly since the Group was started 22 years ago. The Newsletter has been the main communication vehicle for the MCCG and is widely read by local members and even as far wide as Sydney and Melbourne.
It has covered the efforts of the MCCG Bushcare Groups, the Annual Photo Competition, The Kids Day at the Cottage, Dale's  Cottage Talks and the recent popular evening presentations at the Showgrounds Hall. It has also included informative local articles on native plants, weed control and native fauna. We are fortunate to have several experts living within the catchment who have contributed authoritative articles on a wide range of subjects from birds, butterflies, frogs, landscaping, platypus and creek health.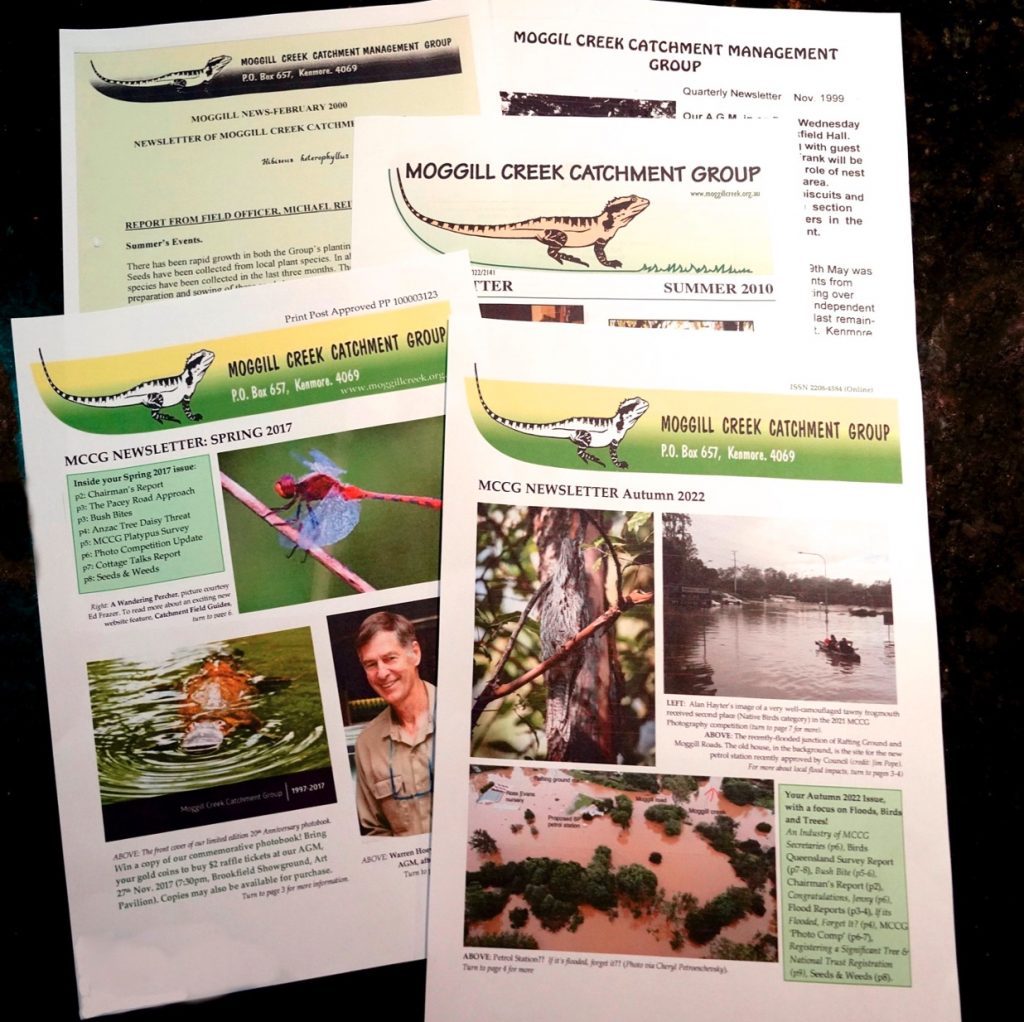 The MCCG Newsletters from the first issue on November 1999 to 2012
None of this would have been possible without the dedicated work of our two Editors, the late Graeme Wilson and our present editor Cathi Lawrence.
This issue is Cathi's 22nd Newsletter and she has brought a professional expertise to the Newsletter that has lifted the publication to an exceptionally high standard. Cathi has not only produced a highly attractive publication she has cleverly cajoled the contributors of articles to supply a newsletter with a regular balance of articles on people and activities in the catchment with topical and informative articles on the fauna and flora of the area.
The work that goes into producing each issue is enormous and Cathi's highly disciplined approach results in the timely production of the newsletter each quarter.
A recent letter to the MCCG Secretary put it well:
Dear Zoe
Thank you for the latest Newsletter, what a delightful and informative issue. I was really interested in the information on the likelihood of our native wild life survival during the flood. It would seem that Nature is able to cope so much better than the humans.
The article was well illustrated and most informative. As someone who finds using a computer difficult, I really appreciate the Newsletters and can only admire those responsible in producing such an excellent product.
Thank You
Peter Strickland.
The MCCG Newsletter is truly Moggill Magic and a large contributor to the success of the Moggill Creek Catchment Group.
Words and photo by Ed Frazer