We are very excited to announce that four new birds were officially recorded in the Catchment in 2016! They include:
Black-shouldered Kite
Little Eagle
Little Wattlebird.
This in itself is a remarkable result!
But the most recently observed new bird is particularly interesting. A male Hooded Robin was observed at Brookfield on the afternoon of 12 December 2016.
What is remarkable is that this bird was observed in Brookfield at all!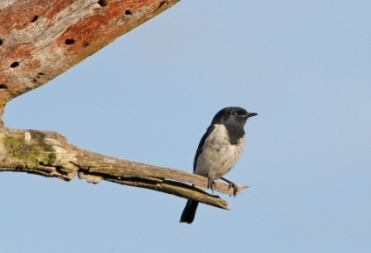 Photo courtesy of Julie Sarna
The distribution of the Hooded Robin does not include Brisbane but is spread over much of mainland Australia. This solitary bird was only observed once, so it was probably a bird that became disoriented, arrived in our Catchment by mistake and quickly went on its way back to its usual habitat. When this happens, the bird is called a 'vagrant' in the Australian databases and bird lists.
The observation of the Hooded Robin is spectacular because it is so beautiful and this is exactly what makes bird surveys and time-in-the-bush so rewarding. The male is a beautiful jet black and pure white robin, while the female has more subdued grey-brown colours.
If you'd like to see a list of all the birds in our catchment and where to find them, please visit the Bird Project section of this website.
Incidentally, the Hooded Robin is number 210 on the Moggill Creek Catchment Historical Bird List!