We've just received news of a platypus sighting at a spot where (to our best knowledge) platypus have not been sighted before.
This morning (Wednesday 19 June), MCCG member Ed Frazer took his usual walk along Adavale Street, Brookfield to the bus turnaround triangle. This takes Ed over the small bridge to the the junction of Adavale St, Savages Road and Gold Creek Road.
Ed always looks in the creek and this morning had the enjoyment of watching a platypus feeding among the Elephants Ears (Colocasias) for about 10 minutes!
As the turnaround is the venue for the produce exchange and the starting point for many of our local runners and walkers, it is a very well frequented location.
We're hoping there are more sightings. If you're in the area, please have a peek in the creek! Let's see if we can log more sightings of the resident platypus!
If you're lucky enough to spot this generally elusive mammal, please email our secretary at [email protected]
ps: coincidentally, researcher Tamielle Brunt will be talking about the quirky history of the platypus and sharing details of her research at our mid year meeting next Thursday evening, 27 June. Why not join us? For more details, follow this link.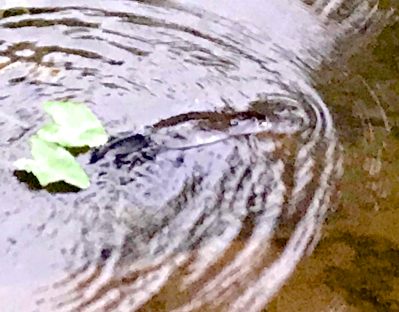 Ed managed to nab this shot of this morning's platypus sighting on his phone