Our 2019 Platypus Survey will be held bright and early  on Sunday 8 September.
Local wildlife photographer Ed Frazer knows there are platypus about, so he's started early with his own survey!
We're grateful to Ed for sharing his findings. Take a read! It's almost guaranteed to make you sign up for the official survey day! Here's Ed's report:
---
As the annual Platypus Survey is just a few weeks away I decided to check out the two long stretches of Gold Creek along the boundary of our property.
A long time ago these sections were part of the Dart dairy farm and the favourite local swimming and picnic spots.
Nearly every year a platypus is sighted in the first pool. This section starts at the end of Adavale St and goes about 150m into our property.
The next section starts at the gravel bar between the two stretches and finishes at the bridge into the Goldmont estate. Both pools vary from 10m to 20m wide and up to 3m deep.
The second pool has not been surveyed for platypus to date so I thought it was worth a closer look.
My observation of the second pool over 10 days revealed three separate platypus! One large one, probably a male, and two smaller ones. One of the smaller ones (pictured below) has a huge black lump on its tail.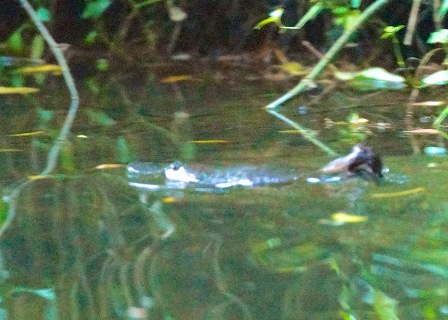 Platypus in Gold Creek © Ed Frazer, Aug 2019 
The three platypus have been seen travelling from the first to the second pool over the gravel bar of about 10m.
So far I have only been able to photograph them in very low light, so I have set up three infra-red trail cameras. The first night I got an echidna and a water rat.
Hopefully I will soon get a close-up of the platypus travelling over the gravel bar.
Out of 10 days of observation I have seen one or more platypus each day, with the exception of two days.
With two platypus watchers there will definitely be a good chance of spotting one or more during the survey!
---
RSVPs for the survey close 31 August. For more info about the survey and how to be a part of it, please click here.