Thank you to everyone who visited us in the beautiful Autumn sunshine at the Brookfield Show this year, and to all members who gave their valuable time to ensure we had a strong presence at the show.
As usual, our stand was beautifully presented, thanks to our PR Officer, Dale Borgelt. It featured maps and photos of the activities of our many bushcare groups, together with info about our upcoming Kids Day on Saturday 10 June.
We had a bonus reason to celebrate this year, when Dale was presented with the 2018 Brookfield Show Society Community Award! A very special and deserving achievement indeed – you can read more here.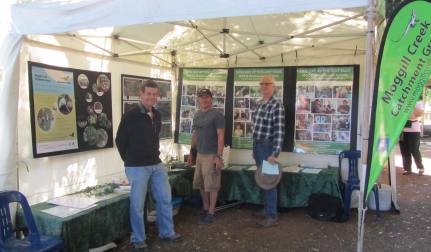 Richard Woodhead, Geoff Lawrence and Ian Hancock looking after the MCCG stand at the 2018 Brookfield Show