Would you like to see what's been happening recently at McKay Brook?
Thanks to recent intermittent rainfall, our plantings from 11th November have established well and have only needed a single follow-up watering.
This Saturday 6 January we'll be working further upstream where a tree has fallen across the grassed area. We'll be controlling weeds along the margins, where we also plan to plant some Lomandras.
This area has established well and includes some peanut trees which are propagating on their own and deserve to be looked after!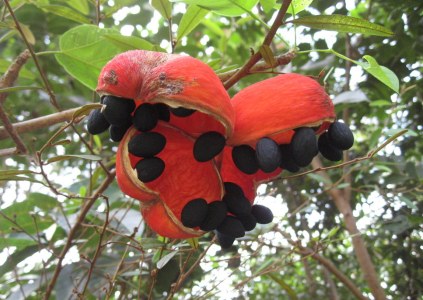 Peanut tree in flower (photo courtesy of Bryan Hacker)
Care to join us? Just park in Pamela Place around 2pm, look to your left (upstream) and you should soon find us!
Wear protective clothing (long-sleeved shirts, jeans, sensible shoes/boots), gloves and bring drinking water, a hat and some sunscreen. We'll bring the refreshments!
For more info, contact Bryan Hacker on 3374 1468 or via email at: [email protected]
Please come if you can – we need lots of help!