Like to get involved in some search and rescue?
Due to the recent rain (very welcome!) our McKay Brook bushcare group's working bee on Saturday 3 February was cancelled.
An area they planted a year or so ago at their Mabb Street Kenmore site is now infested with glycine, so they'll be doing some 'search and rescue' this Sunday morning 18 February.
Fortunately some of the species they've planted, such as the Brown Kurrajongs in the photo below, are rallying and doing well.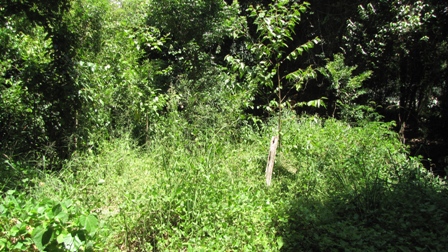 Brown Kurrajong plantings in Mabb Street – photo courtesy of Bryan Hacker
---
If you can help, park close to the end of Mabb Street (UBD Map 177 J8) just before 8.30am. Descend the steps and you'll find Bryan Hacker and his crew about 20m along the path.
Bring protective clothing (long-sleeved shirts, jeans, sensible shoes/boots), gloves, drinking water, hat, sunscreen. Refreshments will be provided.
For more info, call Bryan on 3374 1468. PLEASE COME HELP IF YOU CAN!!!