Our heartfelt thanks to Council for their recent removal of several large Chinese Elms from Tuckett St. Park. They have facilitated a revitalising step forward!
The work was held up for over 6 months for reasons beyond our control, but we finally have a large area that will be ideal for planting with natives from early 2019.
In the next step, Habitat Brisbane will spray the area with herbicide and spread large piles of mulch that have resulted from chipping the Chinese Elms. Then we can begin restoring natives to the area!
Clearly this means LOTS OF TREE PLANTING in the early months of the new year (if the weather is favourable.)
Tuckett St Park is a beautiful parkland of natural beauty and environmental diversity. It is a little-known area offering ample recreational activities enjoyed and nurtured by local residents.
If you'd like to contribute to this SIGNIFICANT REGENERATION EFFORT by planting some trees, please contact Jim Pope, leader of our "Section 3" bushcare group on 3374 4181.
Jim can also be reached via email on: [email protected]
The Section 3 bushcare group generally meets on the last Sunday of each month.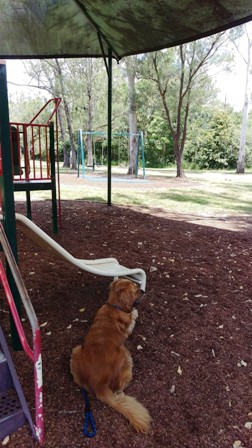 Enjoyed by all! A Tuckett St Park vista