The recent rains have created an unusual situation around the catchment which may be escaping our attention.
It seems many of our local natives have "sprung" into growth, typical of Spring, with new red growth on Eucalypts. Quite a few are flowering, bringing in bees and bee-eaters.
The most unusual flowering is occurring with mangoes, which are currently in heavy flower 5 months earlier than usual! Mangoes normally flower in August so it is unlikely the fruit will develop as winter approaches.
When winter arrives and if it is a cold one, all of this early new growth may be damaged by the cooler temperatures.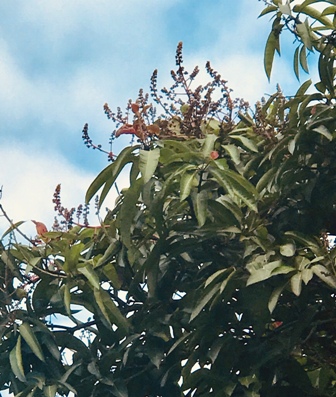 Mangoes in flower in April – © Ed Frazer

These seasonal abnormalities are not isolated to flora. There have been a few birds showing early nesting behaviour as well, although it seems unlikely they will carry it through before the onset of winter.
The Bureau of Meteorology has predicted that warmer than average days and nights are likely for May to July nationally. It predicts that the chances of being warmer than median are very high (greater than 80%) for large parts of northern and eastern Australia for both days and nights.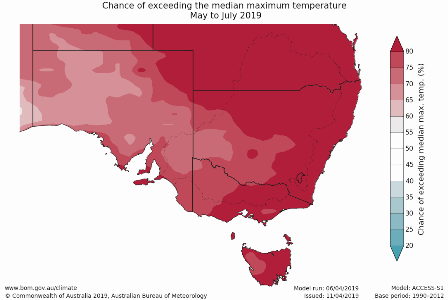 There are reports of environmental changes occurring earlier than usual elsewhere in the world due to changing climate patterns. Here are some other recent examples:
Keep an eye out for abnormalities around you. It may well be that our catchment is not immune to similar changes.
Image sourced from the BOM website