Biosecurity Queensland is inviting your feedback into a review of the Biosecurity Act 2014.
This legislation governs how we manage biosecurity threats and operations in Queensland and a key focus is sharing the responsibility of biosecurity amongst all Queenslanders
Biosecurity Queensland wants to hear what you have to say about any of your challenges to embed the provisions of the Act into your activities (e.g. the general biosecurity obligation).
The review will be completed by 30 June 2019. You can submit your feedback to:
[email protected] by 31 May 2019.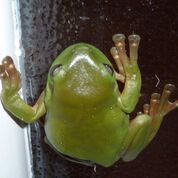 Green Tree Frog
(Photo courtesy of Rosemary Pollock)