A TRULY EXCITING ANNOUNCEMENT for bird lovers who live within the Moggill Creek Catchment !!!
We are pleased to release an illustrated Online Field Guide to the diverse and prolific birdlife that resides right here in our catchment.
This initiative is due to the enthusiasm of Jim Butler, author of Feather Fascination, and Ed Frazer, renowned for his vibrant photos of birds on his Brookfield property. Together, Jim and Ed have created an alphabetic list that is custom-made for our catchment, with photos, scientific and common names, and information that is directly relevant to our district. The MCCG is grateful for their generosity and collaboration.
Our hope is that you will use the list both as an educational resource and a visual aid to identify birds you encounter when you're out in the field … and simply for pure enjoyment!
Please click here to open the list.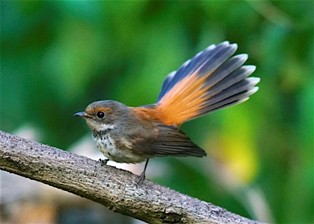 Rufous Fantail – photo courtesy of Ed Frazer
---
Note: Feedback regarding the list is welcome via email to Jim Butler at: [email protected]