The new Frogs in our Catchment field guide is up on our website and well worth a look – after you have read Phil Bird's Wildlife Matters March column. Here you'll find out why ephemeral pools are so important and when World Frog Day is!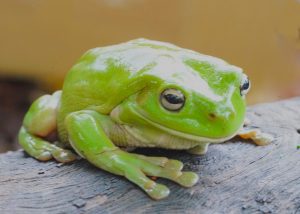 Green Tree Frog (Litoria caerulea) Photo: Ed Frazer
Have you ever wondered what frog is making that call in your backyard? Use this link to discover the fabulous frogs near and far on the Frog ID website.  The aptly named Motorbike Frog (Litoria moorei), although not native to Moggill Creek sadly, is particularly awesome.
All Wildlife Matters columns can be found in the Media Centre
---
Published in