In November 2019, Ed Frazer introduced us to a young Platypus family who also call his property home. As breeding season commences in August 2020, Ed updates us on his playful residents:
---
It has been 12 months since I started monitoring the platypus in the two big pools in Gold Creek, which borders my property in Adavale St.
I have regularly observed and photographed the two youngsters that were bred in the 2019 season. They emerged from the den in November 2019. One was attacked and wounded and it has now repaired its wounds.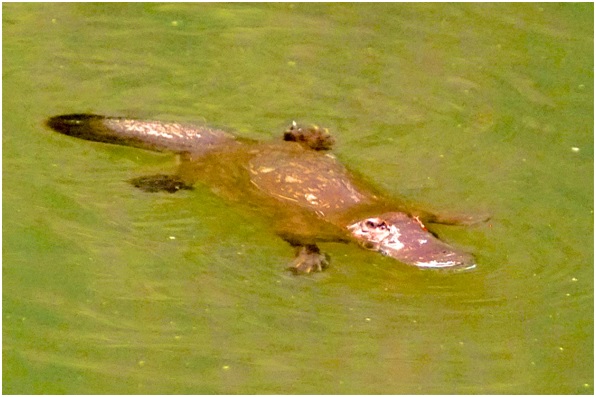 One of the platypus hatchlings from late 2019
I haven't seen or its sibling since July 3, and my overall sightings have greatly reduced since the end of June. Before then I regularly saw platypus every day.
Lately their behaviour has been different, with the platypus travelling large distances between each dive. Their usual feeding pattern is a series of short dives about 45 seconds apart or feeding half out of the water where the leaves build up along the edge of the creek without any rapid change of position.
I assume the change of behaviour is due to the start of the breeding season.
Some of the large platypus I have observed have possibly been males travelling the creek to find mates.
I am pretty sure the youngsters from last year have been driven off, probably by their mother who is preparing for the next family. She would not be inclined to tolerate the youngsters as from now to November as she will need all the food she can get to produce the huge quantities of milk she will need for the next batch of growing babies.
I think last year's youngsters will have moved to find un-populated territories of their own.  I did see what could have been one a few days ago in the pools near the junction of Gold and Moggill Creeks. I would not be surprised if they work their way to repopulate the upper reaches of Moggill Creek.
Our last MCCG Platypus Survey showed that there were no platypus in this part of Moggill Creek because the water level had been depleted by drought and excessive pumping. Hopefully this year will see a return of the platypus to the area.
The female that raised the two last season has used the same birthing den for many years. It is directly below one of my hides so I can keep a good track of her. Even if I don't actually see her, I can often detect her movements from the bubble trail she often leaves on the surface.
I did not detect her between July 5 and July 20. I think she will have laid her eggs and is now curled up in the den hatching them. Even after they hatch she will only leave the den for a short time to feed and that will probably be in the middle of the night so I doubt I will see her over the next month.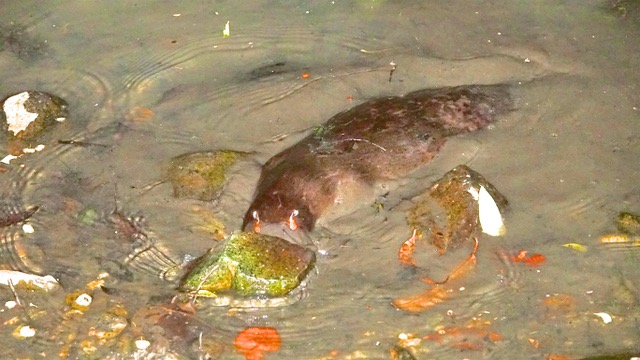 The platypus mother, November 2019
By September the young will have grown enough that she will have to go out feeding regularly and I'm sure when we have the 2020 Platypus Survey in early September she will be observed as she has been nearly every year. Last October she was out late in the mornings and once I saw her at 2pm on an overcast day.
Hopefully I will see the young again as they emerge from the den in November. It's quite likely they will add to the population of platypus we are monitoring with our Annual Survey of the Moggill Creek Catchment.
---
Ed's previous Platypus observations:
Platypus pictorial December 2019
Will our platypus families survive?
Family life Platypus style! November 2019
---
To find out how to register for the 2020 survey, follow this link: PLATYPUS SURVERY Sunday 13 Sept – Register NOW!
All photos are the copyright of Ed Frazer