We are losing some of our most colourful and descriptive language.  What is worse we are replacing names of our plants, birds, mammals and fish with names we cannot pronounce, spell inaccurately and have no idea what they mean as very few of us have the necessary background in Greek or Latin. What's more we are using these scientific names inaccurately in our general usage.
Dendrobium bigibbum is our Queensland floral emblem.  I couldn't find out what or who was bigibbum. What's more nearly any Cooktown orchid you happen to buy from our nurseries won't be a scientifically accurate specimen of Dendrobium bigibbum as it is likely to be at least a selected horticultural Cooktown Orchid cultivar or even a hybrid – neither deserving a scientific label.
What about our faunal emblem the Koala. There may be a few who know it as Phascolarctos cinereus, but Koala's much easier.
The birders have made an effort to simplify our bird names and have a standardised list of common names of all our Australian and most of the world's birds. There are claims Scientific names are unique, while there are many common bush-names for the same species. However, there is also some credibility in the view that scientists are changing their names of our flora and fauna to an even greater degree now they are using DNA to sort out the vague divisions of some of our species. For instance a Google search showed our Queensland bird emblem, the Brolga's scientific name was Antigona rubicundra, Antigone rubicundra and Grus rubicundra in three different current articles. In the past it has also been Ardea rubicundra, Grus antarctica, Matahewsia rubicundra and Grus australasianus. Hardly a history of consistency comparable to the stable common bush-name of Brolga.
Language evolved about 50,000 years ago allowing us to communicate better to assist humans to hunt, farm and defend themselves in a harsh environment. Many languages developed. Some independently and some as local dialects of established languages. Unfortunately many very workable languages have died out and it is reckoned 90% of our languages have gone. We are going the same way with the use of scientific names taking over local common names especially in the horticultural field.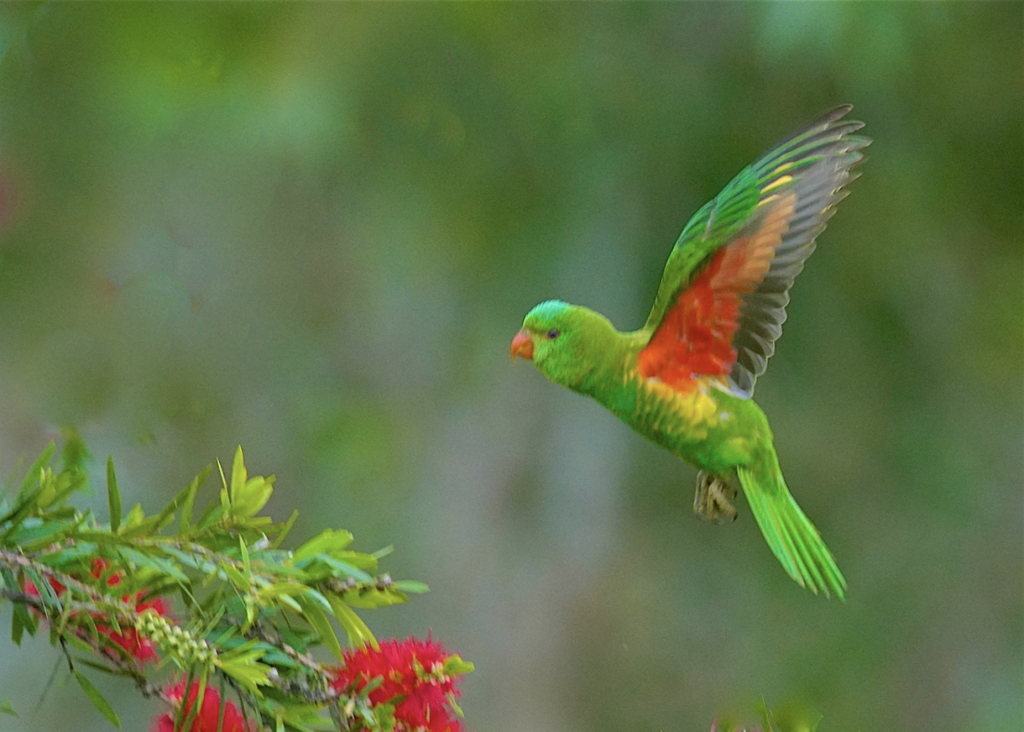 A "Greenie" – Scaly-breasted Lorikeet
We are replacing very descriptive names in a language we all understand with Greek or Latin derived names very few of us can comprehend. The binomial nomenclature system is great for scientists as in theory it means every species has a unique name that should be understood by other scientists no matter what language they speak. However, these are for scientists and it is much clearer for most of us to communicate with names we can pronounce and understand and are descriptive in our own language.
A few years ago you could go to a local nursery and ask for a Red Bottlebrush. A few of us knew it was a Callistemon viminalis and it was generally grown from seed and it was representative of C. viminalis. Now go to a nursery and it should be listed as Melaleuca viminalis as the scientists have changed its name again. But now you will find all sorts of M. viminalis with different colours, shapes and heights as they have been cloned by Horticulturists who have bred or selected different forms that really should be labelled M. viminalis c.v. (cultivated variety), or Melaleuca viminalis (hort) or Melaleuca X (hybrid).
Isn't it much clearer if you just ask for a Pink or Red Bottlebrush. Much more descriptive.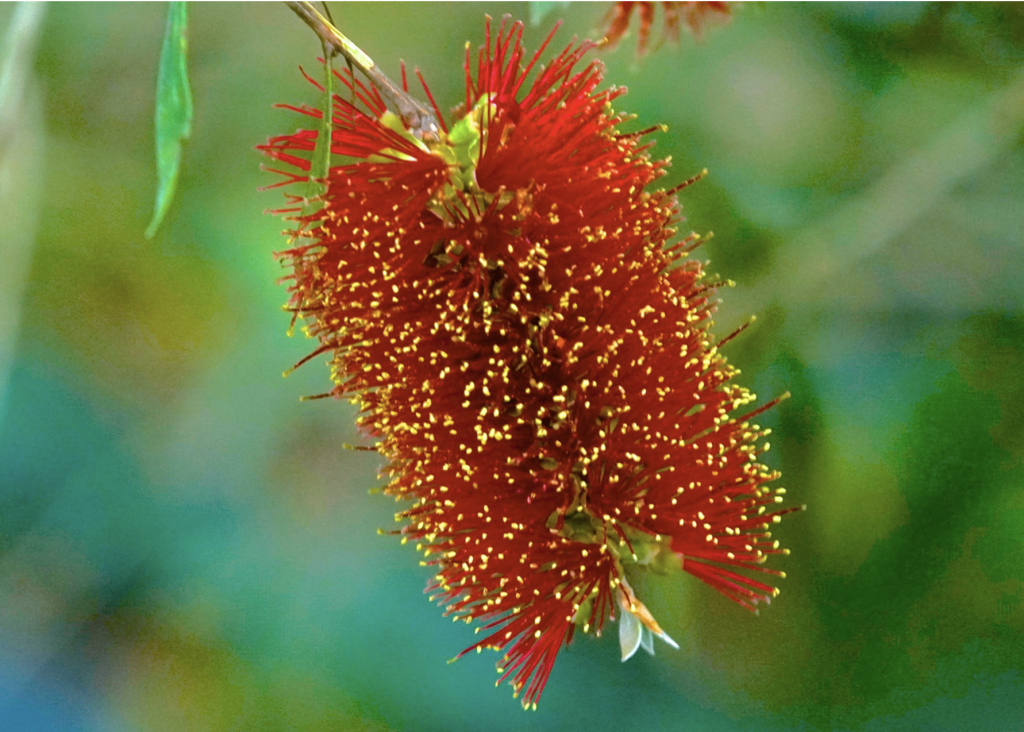 Red Bottlebrush "Captain Cook"
The Moggill Creek Catchment area was settled by farmers growing fruit and dairy farming that had far more contact with nature than most of our residents do today. They had names for our trees, birds, mammals, fish and reptiles that were well understood and very descriptive. These are highly likely to be lost in another generation.
Our  Trichoglossus haematodus (or is it  Trichoglossus moluccanus) is a Rainbow Lorikeet. To a Brookfield local a few years ago it was a "Bluey" to distinguish it from a "Greenie",  a Scaly-breasted Lorikeet. A Corymba maculata was a "Spotty", a Spotted Gum and a Tropidonophis mairii was a Keelback snake.
Sure, they may be called by some other name in another area, but we have our own names (language) in our own area. The names were far more understandable and descriptive than the scientists' Greek and Latin names. The Priests in olden times used Latin so the masses were ignorant and relied on them to interpret the Gospels. Are the scientists still using foreign tongues we can't easily translate to keep us ignorant of the wonderful world of nature and causing us to lose our local vernacular?
Words and photos by Ed Frazer